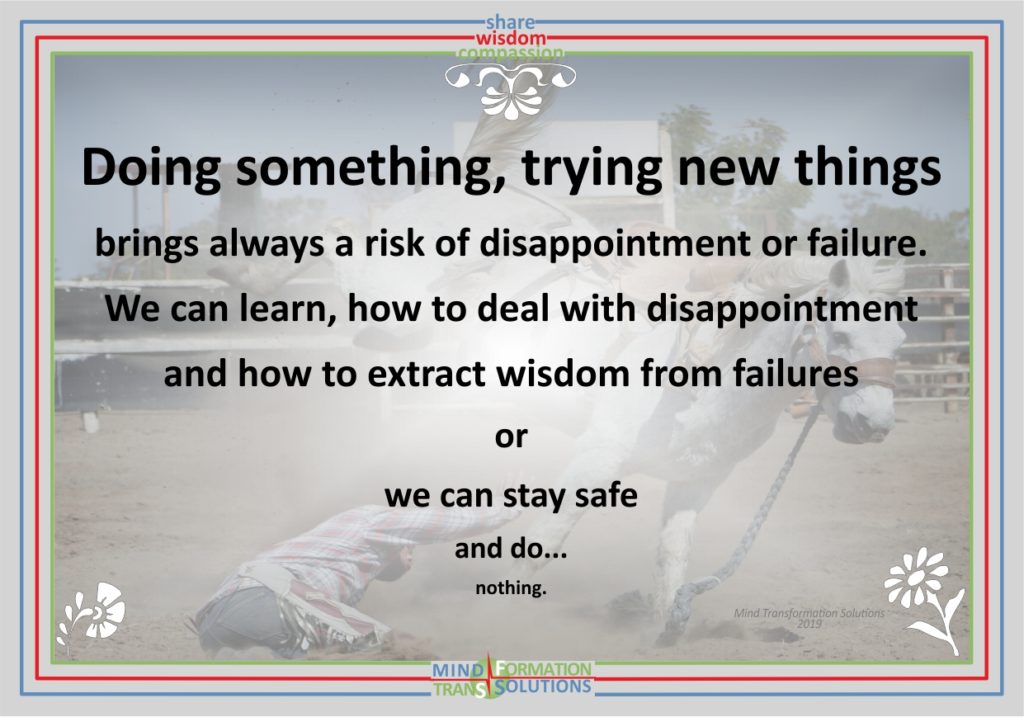 If we engage in any activity, big or small, there is always a risk that something will go wrong and therefore we risk disappointment or even failure.

Some of us fear failure so much, that we prefer to do very little or avoid doing anything at all.
For others, the stress of disappointment and frustration is so big so they avoid it at all costs.
It wasn't always like that. When we were little we were dealing with both failures and disappointments daily.  Because we didn't have any concepts – we could learn from our misadventures or/ and have another attempt if facing frustrations. We were growing fast then.
Now if we learn how to extract wisdom from our falls and if we find a way to deal with disappointments we have a great chance to return to accelerated growth.
What we need is a threefold solution: on one hand, we need to accept failures and disappointments as a natural part of the process of growth.
On the other hand, the only reference point we need is us. Us from yesterday. If we compare ourselves to ourselves and it comes out that today we are a bit better than yesterday it means that we grow, we develop.

The third element is some goal. Without a goal we will not have direction. The best goals to set are things that we like to do, that we are passionate about.
---
Join our community to be always updated about our activity. Click HERE to go to our MailChimp page.
©Mind Transformation Solutions 2019