Due to the present situation, our classes in Finsbury Park are temporally suspended.
To join our Free Sunday online classes follow this link:
E

very Sunday at 2 P.M.* Finsbury Park N4



*Sometimes the hour can be changed – for details check the Facebook group
* if the weather allows that.

Free Sunday Class

for beginners, but not only
It is healthy, it is fun and it is very rewarding!
It is a smart idea to join our Facebook Finsbury Park Tai Chi group for regular updates.
Our stance about COVID19 here

---
Tai Chi?
"Tai chi" full name "Tai Chi Chuan" (Supreme Ultimate Boxing) (different spelling: t'ai chi/tàijí, ch'üan/quán). Tai Chi is sometimes called "shadow boxing".
Why to practice?
Tai Chi is a set of gentle exercises that are proved to be beneficial for health. It was created around the 13th century as a branch of Chinese martial arts in response to "hard" so-called "external" martial art styles. In modern times it is usually taught in a non-combat way. Read more about Tai Chi

---
If you want or need to move your body but do not want to sweat in the gym.

If you want to learn to move gracefully in a coordinated and elegant manner.

If you want to improve your balance and reduce stress.

If you want to increase your energy and vitality.

---
    You are welcome    
---
Who we are

My name is Tom Jagiello. I and my wife have lived in London since 2006. We are running a group of Tai Chi practitioners in Finsbury Park – North London (N4). See a map below.
My adventure with Tai Chi began in the second half of 80-ties.
At that time Poland was still under the communistic regime. There was a Tai-Chi association run by volunteers and funded by (I think) a Canadian, a student of the Lodz Film School, who was a disciple of some Chinese Tai Chi master from Canada.
Leading principal of this association was to share the practice of Tai Chi to promote health. It was run for free, the only cost was of the venue. So, as I learned  my first Tai Chi routine for free – now I am returning to the universe this favour on the same free basis. (If you are intrigued by my attitude – continue reading here

)
---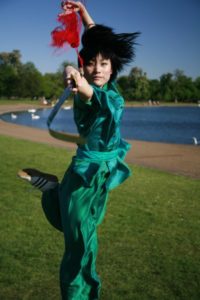 At the beginning of the new millennium I and my wife joined a martial art association where we learned shorter routine – and better suited for us and we practised it regularly for 4 years.
In 2004 we moved to the UK and because of a lack of time and lack of local Tai- Chi groups I fall in a bad habit of practising Tai – Chi on on- and-off biases.
In London I met Shifu Lynn Xu a multiple champion of China in martial arts.
I practised under her instructions for nearly two years. Before she left the UK, she had made a comment that I should teach Tai Chi (see her reference letter at the bottom of this page).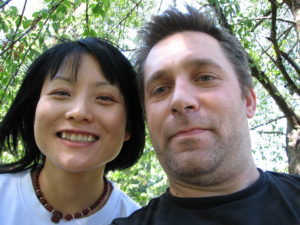 It took me many years to follow this piece of advice. I am not a master of Tai Chi, I rather want to share what I have learned and have a company to practice Tai Chi. London is a very big city and one of the main problems here is commuting, therefore we want to create something that is easily accessible for people who live close to Finsbury Park.
---
It doesn't matter if you have any experience with this type of exercise or not, and it is suited for all levels of fitness.
I can pass to you three routines of Tai – Chi:
we will start with short 24 Yang style form,
then we will learn 42 combine form – a very popular Tai Chi routine and
I can introduce you to the basics of Chen style sword form.
If you are more interested in combat version of Tai Chi or have ambitions to practice with renown master, we can direct you to a very good Tai Chi school (that is not for free of course) and you will have to travel a bit.
---
At times we think that if something is free it must be without value. (Thanks god we don't have to pay for air). As my wish is to run  Tai Chi Sunday Class on a non-commercial basis, if you want to return the favour you can sponsor some good charity organisation of your choice.  If you offer as little as 2 – 10 GBP per session I will be fully satisfied with your contribution. I and my wife support Karmapa Health Care Project and Bodhisattva in Action. One of the important reasons for us to support this projects is that these are small organisations. It means they use our donations for their activities – not for bureaucracy, advertisements, cold calling etc..  However, this is our choice, you can choose whatever you wish.
---
Those of you who would prefer to learn Tai Chi from me, on one to one basis or in a small private group it is possible to arrange paid classes tailored to your needs.
If you are interested in this option, to discuss details, please contact me via the e-mail, address provided below.
---
If you want to join, meet us in Finsbury Park on Sundays. If it is not raining (a bit of drizzle doesn't scare us), we will wait at Finsbury Park Cafe, by the ponds at 2 P.M. sharp, from there we will find some nice piece of grass for our Tai-Chi class (no guarantee that each time it will be the same part of the Park).
If there are enough of us in the winter time we may think about hiring a hall – if yes, this will be the only costs involved.
Join our Facebook Finsbury Park Tai Chi group

for regular updates.
---
The map and address: Finsbury Park Cafe, Endymion Rd, Finsbury Park, London N4 2NQ
The most practical thing would be if you email me at info@mindtransformationsolutions.co.uk and leave your name and mobile number, so if you are late, you will still be able to locate us in the park.
---